I'm really enjoying this autumn - somehow I finally have a bit of free time, which wasn't the case in the summer. The summer was too hectic to be able to keep up with everything which was going on - travel for work, travel for pleasure, work back in Gdansk and catching up to do... and all the people visiting here in Gdansk... plus of course blogging :) Good times, but very very busy... Now I think I'm in a calm phase of reflection and am very much enjoying the slower pace of life.
I have finally found the time to start going through all the pictures brought from this summer travels - and there are a lot of amazing places to talk about. I already have
some posts about Portugal
- and it deserves even more attention - as it was a real discovery for me. Definitely a place to go back to and explore in every detail!
If you are in
Lisbon
one of the great places to go to enjoy some sea food is
Cervejaria Trindade
- a historical traditional beer house with lovely interiors and even better food.
Image by Arek
And afterwards a perfect place to go to enjoy a cup of coffee or
ginginha
- the tasty Portuguese liqueur - is the famous literary cafe
A Brasileira
.
Image by Arek
Don't forget to pace the streets of Lisbon by night to indulge in the cosy atmosphere of this historical city and taste some grilled sardines prepared right on the streets - they are too good to pass by without trying!
Image by Arek
You can start your morning from a trip to
Mafra
- a beautiful town 28 km North-West from the center of Lisbon. A must see there is the Baroque
Mafra Palace
with its fabulous interiors and artifacts.
Image by Arek
The building also includes a major library, with about 40,000 rare books.
Image by Arek
After that take a trip to a little town of
Ericeira
- previously a fishermen village, which later on developed into a picturesque summer resort.
Image by Arek
Image by

Olga
Image by
Olga
Image by Arek
Image by Arek
Beautiful beaches, tiny restaurants with fresh and delicious typical food, lots of
blue-white coloured fishermen houses
and
azulejos
all around - a perfect retreat from the busy life of a big city!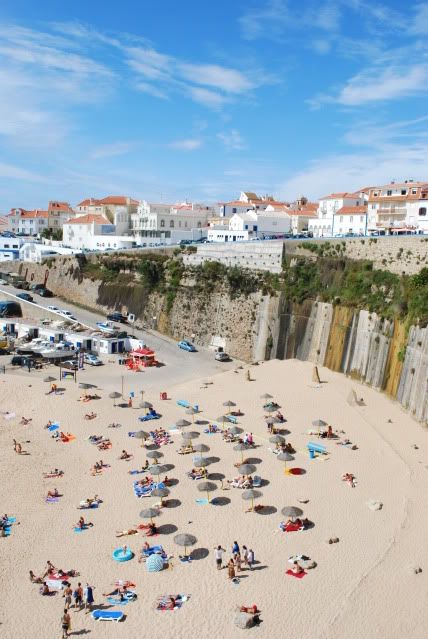 Image by Arek
Image by Arek
Image by Olga
On the way back from Ericeira to Lisbon you need to make a stop to visit a tiny city - an imitation of real rural houses created by a Portuguese enthusiast on his own property (unfortunately I can't remember either the name of the architect or even how the place is called :( ...) Can you please help me out? :)
Image by Arek
And finally spend a nice evening back in Lisbon itself enjoying beautifully illuminated historical sights.
Image by Arek
Image by Arek
Image by Arek
Image by Arek
Take a metro on the way back - every station is skillfully decorated with modern azulejos and the metropolitain itself is very modern and not crowded.
Image by Olga
On the final note of this post - very warm greetings to dear friends
TI
and Ze without whom this great trip wouldn't be possible!