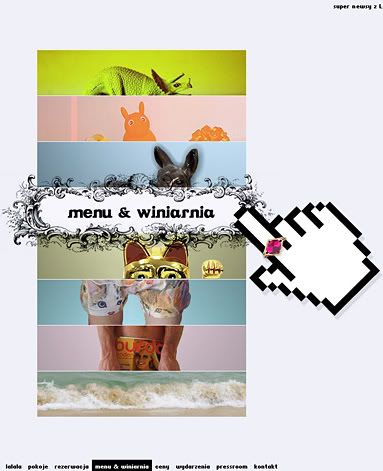 Image by LaLaLa
7 rooms, 7 stories, 7 tastes going frisky in the eye, 7 spick-and-span artistic concepts, a conspiracy of free minds and imaginations, a wonderful alternative, hotel-non-hotel, no doubts an art-hotel, Mecca of impression collectors. Welcome to the eclectic flea market of bliss of seven faces. Artistic souls often carouse here, rooms are packed with people, conversations and lights, cats come and go. The bar smells of coffee, cake and good wine, children pop in for dumplings and ice cream, good cheeses melt on the tip of your tongue and in summer an idle guest rocks in the hammock. Each room is a different novel, different world.
Image by LaLaLa
I made a discovery last week... and here it is!
Hotel Lalala
is a self-contained, flamboyant and sophisticated art-hotel creating a new, contemporary style for the cosy historical
Sopot
- oh yes, we could come'n visit every day! The thoroughly-designed, exciting rooms are both forward-looking and retro, featuring the height of modern design. Who wouldn't like to soak up the exotic atmosphere and style of this wonderful, alternative design hotel? I get so much excited about such things - exclusive creations, where ideas and style count beyond profits...
Image by LaLaLa
Within lively, artistic and quite importantly affordable surroundings, practice yoga, join music sessions and participate in performances, which may begin at any time. Relax on a hammock in the herb garden and feel all cares and concerns disappear. At the restaurant, the homemade delicacies to be sampled are also based on a combination of well-being and luxury. The hotel has only 7 rooms and of course - each one of them deserves a separate story (comig soon).