Image via lolita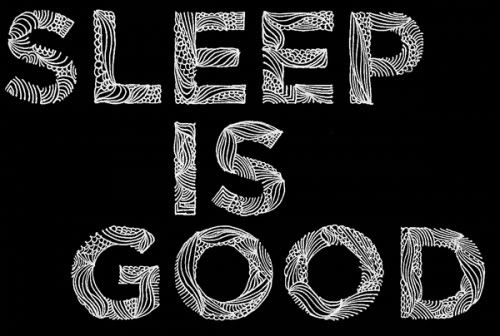 Recently I can't sleep at night... My knee has a life of it's own and only allows me to sleep during the non-dark hours. So while not being able to fall asleep I can at least think of sleeping, contemplate sleeping, visualize it, analyze it, dream of it...
You forget 90% of your dreams. Within 5 minutes of waking, half of your dream is forgotten. Within 10, 90% is gone.
- And sometimes even faster :(
Everybody dreams. Every human being dreams (except in cases of extreme psychological disorder). If you think, you are not dreaming, you just forget your dreams.
The record for the longest period without sleep is 18 days, 21 hours, 40 minutes. The record holder reported hallucinations, paranoia, blurred vision, slurred speech and memory and concentration lapses.
- Why would someone go through such a torture?
It's impossible to tell if someone is really awake without close medical supervision. People can take cat naps with their eyes open without even being aware of it.
Anything less than five minutes to fall asleep at night means you're sleep deprived. The ideal is between 10 and 15 minutes, meaning you're still tired enough to sleep deeply, but not so exhausted you feel sleepy by day. - I normally fall asleep after my head touches the pillow...
REM (Rapid Eye Movement) dreams are characterised by bizarre plots, but non-REM dreams are repetitive and thought-like, with little imagery – obsessively returning to a suspicion you left something somewhere, for example.
Animals dream too. Studies have been done on many different animals, and they all show the same brain waves during dreaming sleep as humans. Watch a dog sleeping sometime. The paws move like they are running and they make yipping sounds as if they are chasing something in a dream.
Oh yeah, my guineas dream too!
You can experience an orgasm in your dreams and it should not necessarily be connected to dreaming about sex. The sensations while lucid dreaming (touch, pleasure and etc..) can be as pleasurable and strong - or even stronger - as the sensations experienced in the real world.
In our dreams, we only see faces that we already know. Our mind is not inventing faces – in our dreams we see real faces of real people that we have seen during our life but may not know or remember. We have all seen hundreds of thousands of faces throughout our lives, so we have an endless supply of characters for our brain to utilize during our dreams.
Not everybody dreams in color. A full 12% of sighted people dream exclusively in black and white. The remaining number dream in full color. Studies from 1915 through to the 1950s maintained that the majority of dreams were in black and white, but these results began to change in the 1960s. Today, only 4.4% of the dreams of under-25 year-olds are in black and white. Recent research has suggested that those changing results may be linked to the switch from black-and-white film and TV to color media.
The most common emotion experienced in dreams is anxiety. Negative emotions are more common than positive ones.
Dreams are symbolic. If you dream about some particular subject it is not often that the dream is about that. Dreams speak in a deeply symbolic language. Whatever symbol your dream picks on it is most unlikely to be a symbol for itself.
Some scientists believe we dream to fix experiences in long-term memory, that is, we dream about things worth remembering. Others think we dream about things worth forgetting – to eliminate overlapping memories that would otherwise clog up our brains.
For me it is definitely both.
The "natural alarm clock" which enables some people to wake up more or less when they want to is caused by a burst of the stress hormone adrenocorticotropin. Researchers say this reflects an unconscious anticipation of the stress of waking up.
I previously was proud of my natural alarm clock... Now I don't know what to think...
Dream Incorporation. Our mind interprets the external stimuli that our senses are bombarded with when we are asleep and make them a part of our dreams. This means that sometimes, in our dreams, we hear a sound from reality and incorporate it in a way. For example you may be dreaming that you are in a concert, while someone is playing a guitar during your sleep.
Most of what we know about sleep we've learned in the past 25 years.
Experts say one of the most alluring sleep distractions is the 24-hour accessibility of the internet.
Does this apply to YOU (yes, YOU!) by any chance?