Image by Google
There are movies which can absorb you from their first minutes, sometimes by too many coincidences with your own life, by the mood they set (however elusive and hard to define it might be at times), sometimes by the pure beauty of the images.
The Dreamers
is one of those films for me...
Undoubtedly the shots of The Dreamers are very impressive. As in other films by
Bertolucci
, practically every shot could be cut out and studied hours at an end for its elegance.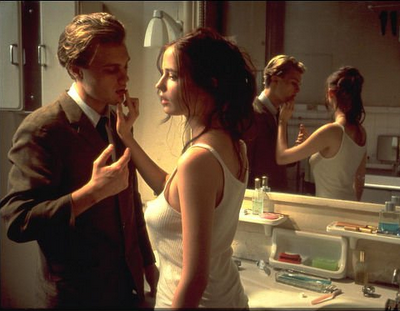 Image by Google
But more important are of course the views put into the eyes of the film's main characters (living in 1968), who seem to live within the movies they love, playing with their favourite lines and imitating the protagonists.... The cast brings the vividness, beauty and tension into every scene of the movie, making it really hot. Ignoring the political chaos taking place in the streets, they surrender to their own experiences, developing their views on life, to the wild discoveries, to the game between friendship and love, pleasure and suffering. Eventually this game clashes with reality like it happens in real life and I think this is what makes the movie and its ending very particular... Needless to say the soundtrack is also great..
(You are listening to it now :)
Video via Sapo
Image by Refinery 29