This is one of those
unusual travel tips
: in Paris we accidentally came across this place, which is more than just a great
fondue
restaurant and for the novelty alone, this is a must-see. It's an experience you won't soon forget! A tiny, crowded Refuge des Fondues restaurant in
Montmartre
that serves a one-price menu that includes cheese and meat fondues, an aperitif, and wine.
You'll be crammed on the benches, reaching over your neighbors to cook meat in hot bouillon and dip vegetables and bread in melted cheese. To sit by the wall I actually needed to climb over the table - but not without help from the waiter ;) But! This place so much fun - you immediately meet people sitting next to you - we got to know French and Spanish people and spent the rest of the evening chatting, taking pictures and laughing like crazy, we even ended up exchanging e-mails :)
The best part is that the wine is served in glass baby bottles! (the rumour has it - this is to avoid a tax on wine served in stemware). And when you finish your first - you will get the second one without asking! It's a lot of fun, go with a sense of humor and enjoy the young, vibrant atmosphere!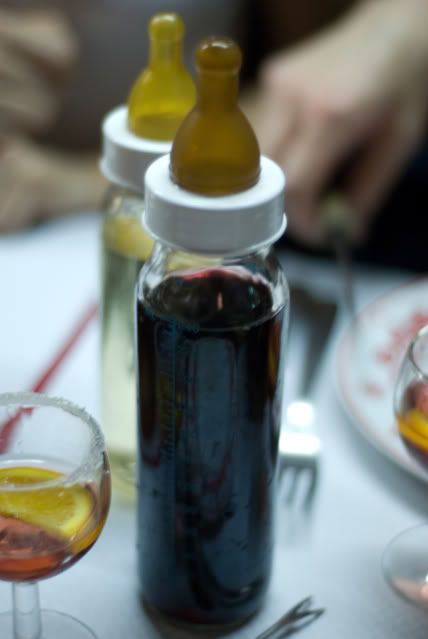 The owner is eccentric and the waiters are notoriously rude and you know the deal when you get in the door and this is great you catch the spirit and you enjoy it in full! The food is amazing, the price absolutely reasonable, and the atmosphere one of a kind. Unfortunately there's no website, but the address is: 17 Rue des Trois Frères.